Charter Yacht Turkey
Charter Yacht Turkey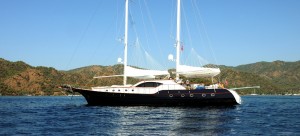 Luxury charter yacht Turkey to cruise during your yacht rental holidays in Turkey is similar to a floating boutique hotel at sea.  Luxurious cabins are provided with ensuite WC and showers for each cabin.
The crew has their own quarters and are separate from the guest's cabins so that our guests feel comfortable and privacy while on board our luxury charter yacht Turkey living, having fun, and enjoying the beauty of crystal clear, emerald waters of the Turkish Riviera.
New generation Gulets for Charter Yacht Turkey are built according to the state of the art technology. we have clients for charter sailing yacht Turkey vacations in southwestern Turkey from all over the world. Turkey has considered as one of the best destinations for holidaymakers with its golden coasts and crystal clear waters that many tourists come back, again and again, to spend their holidays every year with charter yacht Turkey.
While on board yacht charter Turkey, our guests will enjoy spacious interiors and a professionally equipped galley conducted by a professional chef with whom our guests are being served delicious meals and dishes from the Mediterranean essence and heritage. Furthermore, Turkish cuisine is one of the most famous cuisines in the world, and you will enjoy having delicious meals on board our yacht charter Turkey
Cuisine and Art Mix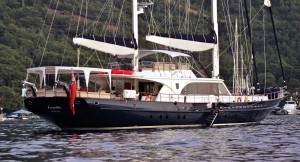 Exquisite cuisine is prepared, to your liking, by your own personal chef and you can dine whenever and wherever you like. Join the growing numbers who enjoy their holidays in absolute luxury on their vacation, when and where they command. Luxury charter yacht Turkey can vary immensely in size, style, and function.
They can be motor yachts, classic or ultramodern powerboats, displacement, or fast planning. The largest and most lavishly appointed superyachts, however, tend to be power yachts. Power yachts have the size and stability to provide saloons decorated with fruit bowls, artwork, and sculptures and can be garnished with bouquets of fresh flowers.
The interior saloons are spacious and tastefully decorated and the private cabins are large with individual ensuites, which often include baths. The decks are designed with overflowing space, perfect for sunbathing and other outdoor activities. Charter yacht Turkey Luxury Gulets are usually equipped with water toys for your entertainment. such as Kayaks, windsurfers, water-ski, jet skis, and dive equipment, to name a few are not uncommon.
Whats Offers Super Yachts
The largest superyachts may also accommodate a helicopter pad, submarine bay, gyms, and cinemas. Every charter boat has its own speed boat and water toys or water ski. Naval architects are recently designing yachts from 35-65 meters, fully decorated and appointed with all the amenities and water toys. These modern Motor sailers or gulets are incredibly powerful, safe, and majestic.
They allow you to experience all the comforts of a motor yacht and the silent soaring through the waves, Luxury sailing yachts are impeccably equipped, adventure sailing machines. full yachts charter Gocek crew is appointed to sail your luxury boat, Charter vacations are fast becoming a popular way to enjoy spectacular scenery, brilliant service, incomparable freedom to explore exotic coastlines and ports all in style and comfort.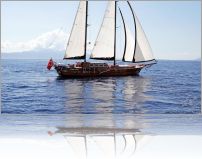 Charter Gulets